A multi-talented TV producer, actress, and foodpreneur, Hilda Effiong Bassey popularly known as Hilda Baci, has earned the world record for the longest cooking marathon at a 100-hour record time.
Her remarkable achievement involved a grueling 100-hour cooking session during which she prepared over 120 recipes, ranging from cold dishes to sauces, mostly Nigerian cuisine with just six hours of break time at Amore Gardens, Lekki, Lagos State. This remarkable feat has surpassed the previous record set in 2019.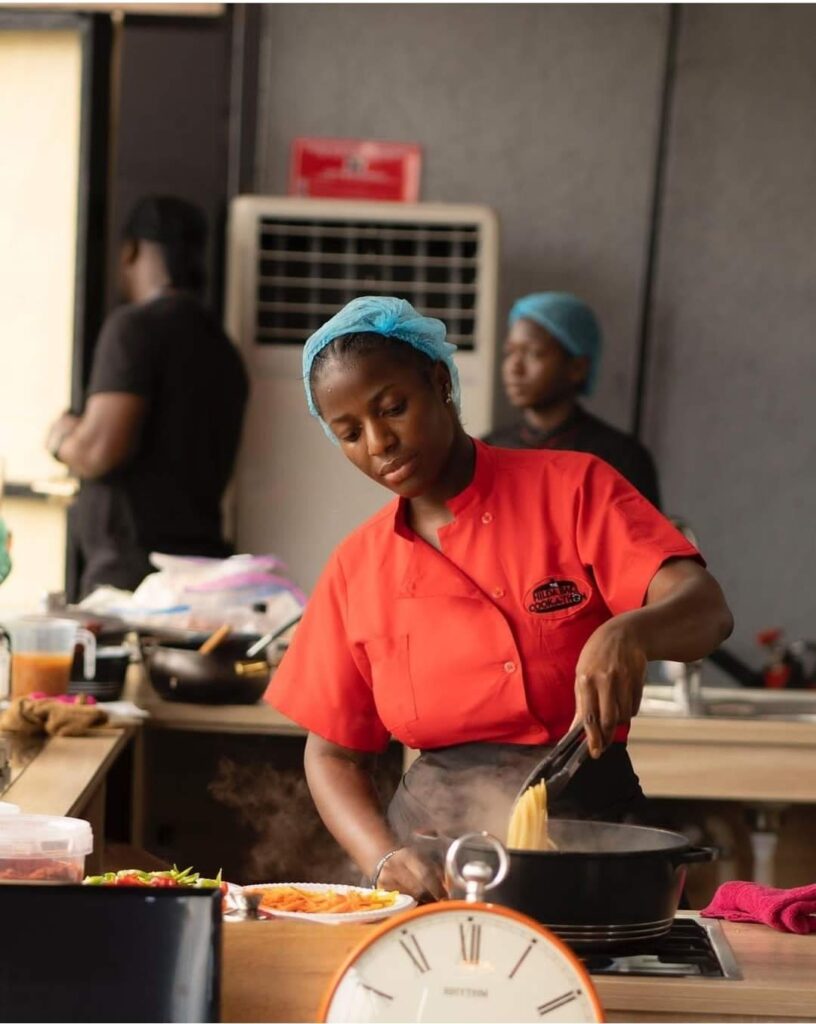 Before Hilda's achievement, the world record for the longest cooking marathon was held by Chef Lata London, who cooked for an impressive 87 hours and 45 minutes in Rewa, India in 2019, according to the Guinness Book of Records.
However, Hilda's impressive feat has broken this record, making her the new holder of the world record for the longest continuous cooking marathon.
At exactly 100 hours and 40 minutes, Chef Hilda Baci stopped cooking and turned off the cooking gas.
When Hilda stood at attention when Nigerians sang the national song, that was the most fascinating portion and the part that made the audience the happiest.
Hilda had the best medical care available every day for four days from a group of doctors, trainers, and nutritionists who guided her through trying periods, including when she started vomiting and showed overt signs of tiredness and fatigue.
During the cooking session, a lot of Nigerian celebrities including singer Dremo, Comedian Real Warri Pikin, Enioluwa, Singer Spyro, and others came through to support Hilda Baci.
Also, the Governor of Lagos state, Babajide Sanwo Olu, on Sunday afternoon, came to the venue to show his support for Hilda Baci.
On the 14th of May, Nigerian President-elect, Bola Tinubu, declared his support for chef Hilda Baci clinching the Guinness World Record for the 'longest cooking time'.
Taking to her Instagram live video on the account 'myfoodbyhilda' on Sunday, Tinubu commented, "IDAN doesn't break, she breaks records. We're rooting for you, Hilda."
Also, the current Vice President of Nigeria, Professor Yemi Osinbajo called Hilda on the phone as a show of support for the chef.
Former Anambra State Governor, and presidential candidate of the Labour Party, LP, in the last election, Peter Obi stated that Hilda Baci's spirit is a true Nigerian spirit.
He tweeted, "The efforts being made by Hilda Effiong Bassey (Hilda Baci) to beat the current Guinness World Record for cooking for 4 days nonstop shows the true Nigerian spirit of hard work and resilience."