Lata Tondon, who holds the Guinness World Record for the longest cooking marathon by a single person, has a significant message for all Nigerians, calling for peace between India and Nigeria.
Remember that Lata had expressed her support for Hilda Baci, who had just beaten her record for the longest solo cooking marathon.
In her video message posted on Instagram, she captioned the video, "All the best Hilda. Hope to see you on Official Site of Guinness Book Of World Record Soon !!".
Tondon set a record when she cooked for 87 hours and 45 minutes in India in 2019, but Baci has cooked for just 100 hours and 40 minutes.
In a newest update, Lata Tondon implored Nigerians not make this a competition, adding that it's just a record.
She added that she is a peaceful and loving person in character.
Lata, therefore, pleaded with Nigerians to wait for the official confirmation from Guinness World Record whether the current record is broken or not.
Lata Tondon wrote, "A humble request to all my sisters and brothers in Nigeria and India to maintain peace and wait for Guinness to officially announce if the current record is broken or not.
"It is just a Record my friends, I am a Peace loving person and wish same for you." See her post below: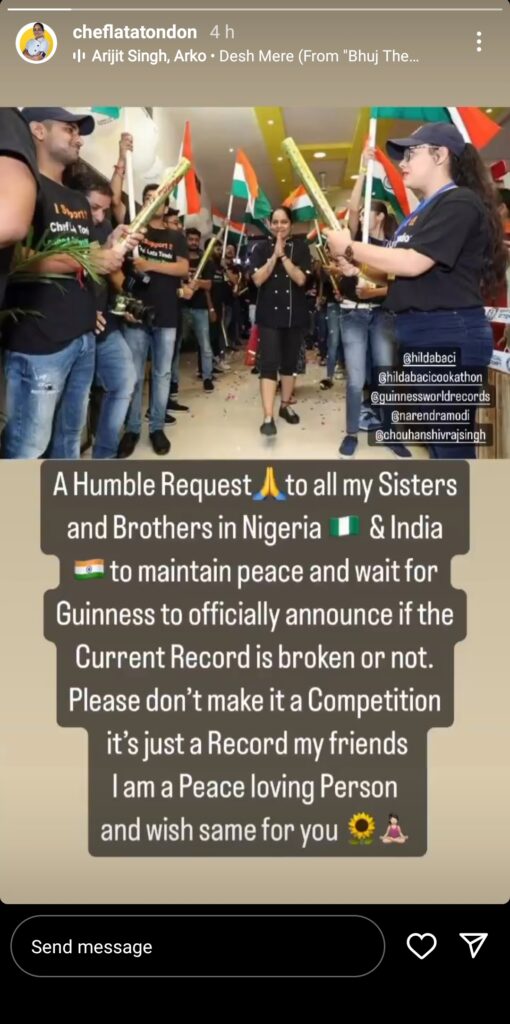 NOLLYWOOD LIFE recalls Guinness World Records, on Monday, stated it will need to complete reviews before recognizing the record for the longest cooking marathon by a single person, set by Nigerian chef Hilda Baci.
According to Daily Post, Kafayat Oluwatoyin Shafau, a Nigerian dancer who holds a World Guinness Record, also provided some explanations for the alleged delay in Hilda Baci's record being confirmed by Guinness World Records.