Nollywood actress, Priscilla Ojo has reacted to the speculations of dating Nigerian influencer, Enioluwa, popularly known as the "lip gloss boy".
The actress and the well-known lip gloss guy, Enioluwa Enioluwa, have been sharing images of their relationship on social media for some time.
Photos from any event the two of them attend together are always shared on social media. Enioluwa recently traveled with Priscilla Ojo on her #priscyonworldtour23 tour.
Additionally, the two celebrities' numerous public appearances increased rumors about their relationship. Internet users claim that their relationship goes beyond friendship.
However, in a recent posted on her Instagram page sighted by NOLLYWOOD LIFE, Priscilla Ojo cleared the air about dating Enioluwa.
According to Priscilla, they are just friends and they would be friends for life. She also shared a conversation with her lip gloss boy, Enioluwa who told her that their friendship came with blessings.
See the screenshot of their chat obtained by Remedy Blog below: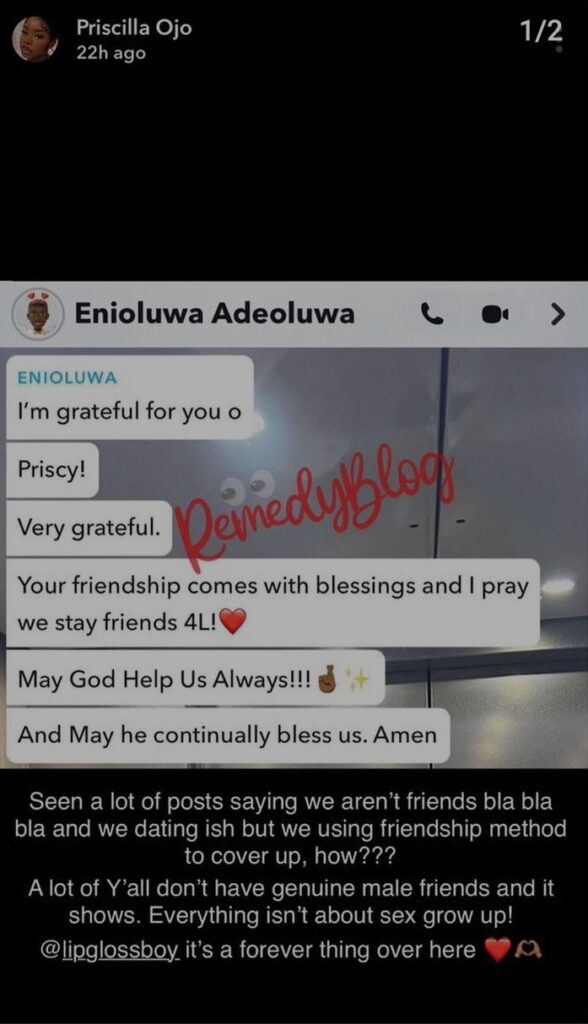 Priscilla wrote, "Seen a lot of posts saying we aren't friends bla bla and we dating ish but we using friendship method to cover up, how??
"A lot of you all don't have genuine male friends and it shows. Everything isn't about s3x grow up. @lipglossboy. It is a forever thing over here ❤️."